Best Online Mah Jongg Games
"Practice makes perfect", some say. "PERFECT practice makes perfect", others correct. This is true in all activities and mahjong is no exception
As we discussed in our Complete Guide to American Mahjong Strategy, the key to getting better at the game is:
Study the rules and (for American mahjong) the current card
Practice with others who are also willing to learn or with online bots (at a slow pace)
Once you're confident with 1 and 2 above, start taking part in real (i.e. faster) games
One of the best ways to practice is using an online Mahjong game. Most will allow you to play against bots and/or people, and play at the desired speed and with people of your skill level.
Here are our favorite online games: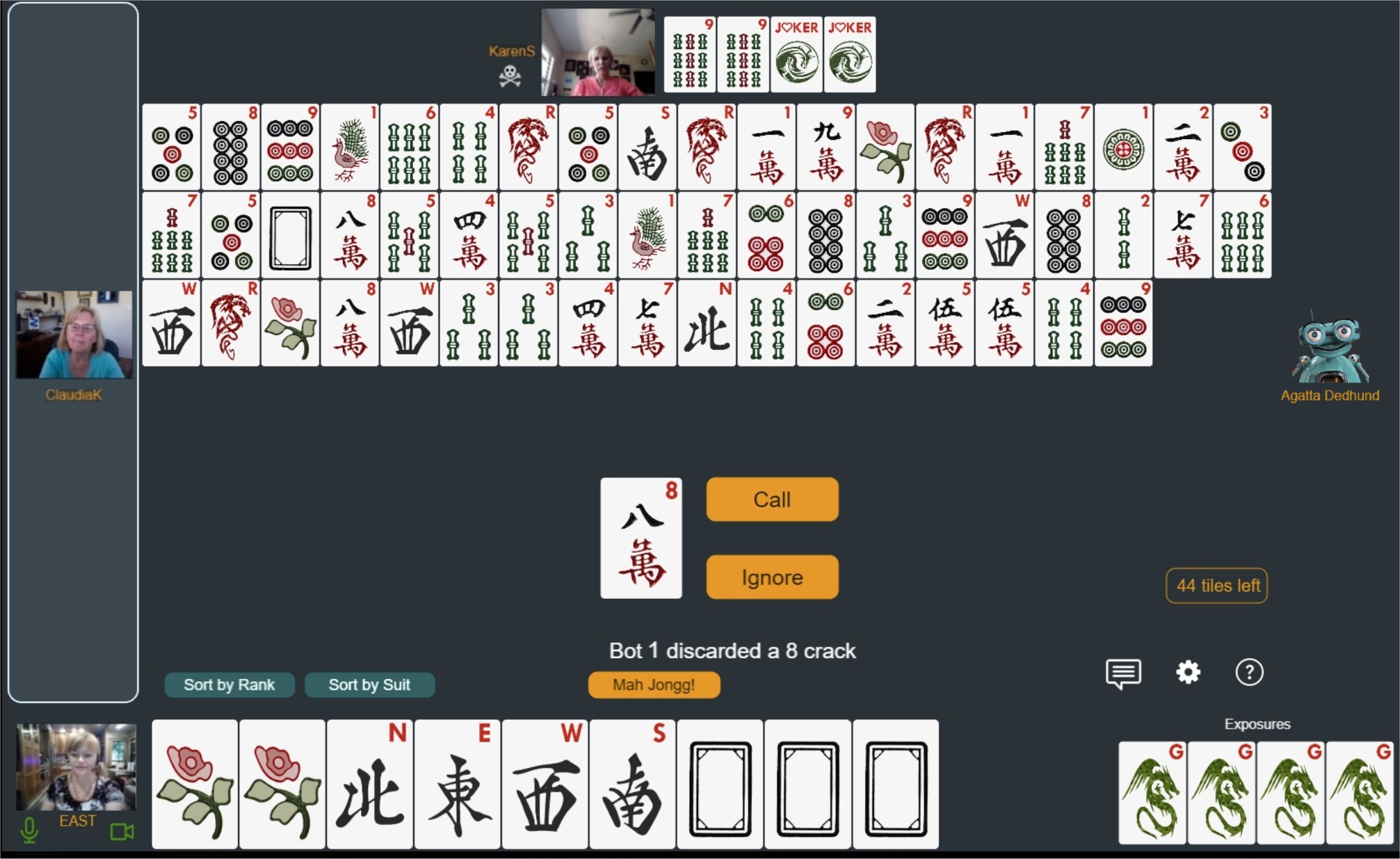 This is, in our opinion, the best online American mah jongg game for beginner to advanced players. Though, of course, we may be just a little biased here! ;)
See and talk to other players within the game (no phone, Zoom or FaceTime required)
Three levels of intelligent bots
Play with bots, invite friends to play or a combination of each
Form groups with other people you play with regularly
Get matched with players of similar skill and speed
Ability to call other players (or bots) dead
Detailed game statistics to track your progress:

Wins, losses and wall games
Average game duration
Average thinking time
Points gained/lost
Rating history
Summary of hands completed

Practice tools (hand suggestions and discard counter)
Feels like a live, in-person game
User interface is clean and modern
Specializes in American Mah Jongg
2-week free trial (which includes unlimited games and features). Then $6 per month
2 - Real Mah Jongg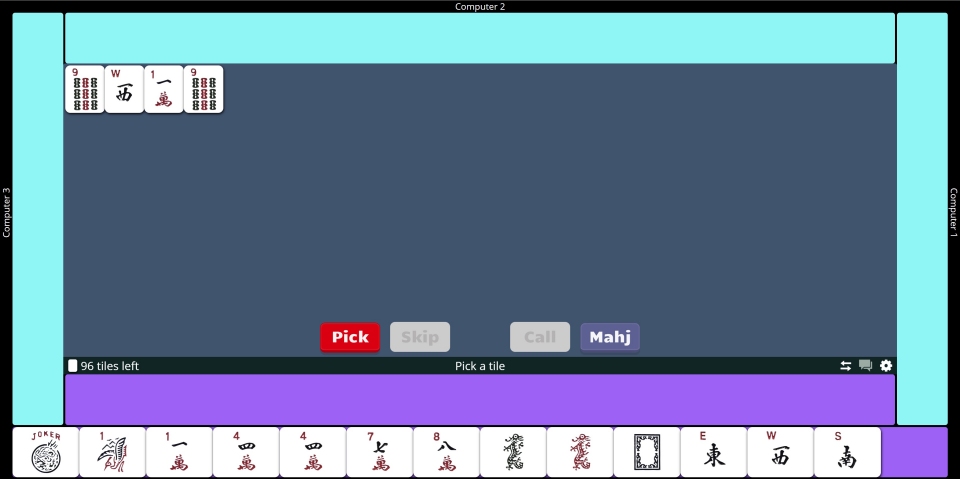 Real Mah Jongg is a solid game playing platform.
User interface is clean and easy to use
Good prompts
Play with bots, people or a combination of each
Large user base
Limited configuration options
No way to see or speak to your tablemates (only text chat)
No way to call other players dead
The computer makes some decisions for you (such as which tile you can call). So it takes some of the thinking out of the game. Some people may like that, while others will prefer to make decisions for themselves
Specializes in American Mah Jongg (you can choose the year card you wish to play)
2-week free trial (which includes unlimited games and features). After that, it's $6/month or $60/year.
3 - Mahjong Time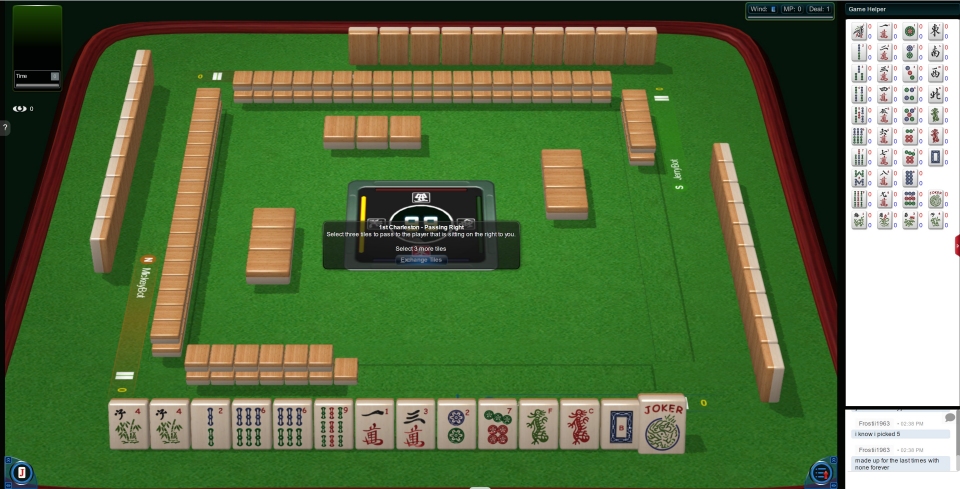 A sophisticated and realistic 3D user interface that simulates a real, live game.
This platform offers the most choice in game types and is very configurable

Choice of style (including American, Riichi, Chinese Official and Hong Kong styles among others) and type of play (including their trademarked "QuickMahjong")
Configure your avatar and its hand
Choose how you'd like the game to look and feel on your device
Many options, such as "auto-pass" (which automatically skips tiles you can't pick) and auto-sort (which sorts your tiles for you)
Finally, there are a number of options for sounds and animations

Mahjong School is free and allows you to play practice games or focus on specific hands with bots and/or friends
Large community of enthusiasts of all skill levels
Online tournaments
The 3D rendering makes it difficult to see discarded tiles (especially for those with eyesight challenges)
The browser version uses flash so will no longer work at the end of 2020. After that, you'll have to download and install an app
No way to see or speak to your tablemates (only text chat)
The user interface is a little overwhelming at first
Bots not available when playing with people (need 4 players)
1000 free "dragon chips" to use per day or upgrade to the premium subscription ($5/month or $50/year) or become a VIP member ($8/month, $80/year)
A lot of nickel-and-diming, which can add up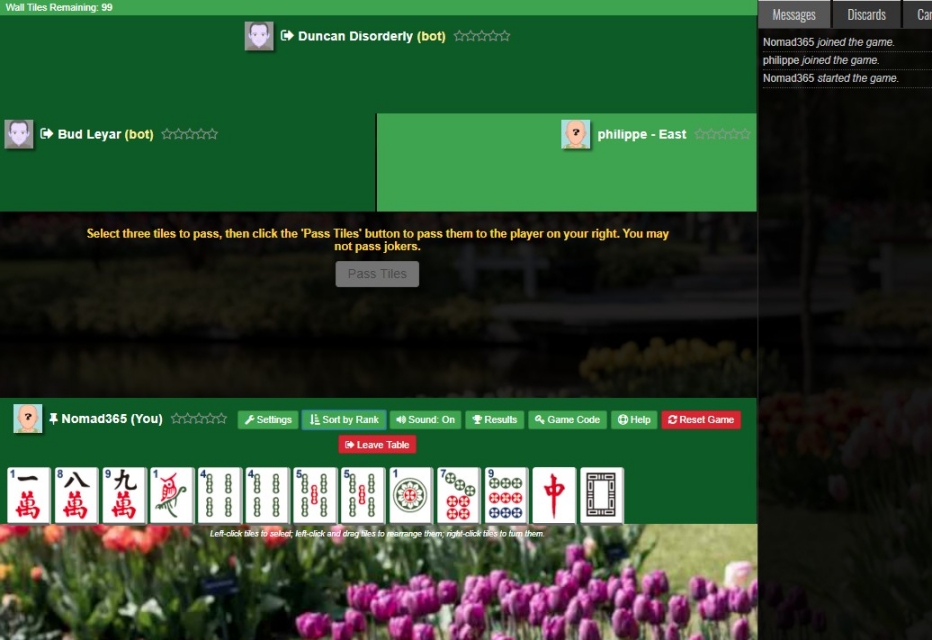 4 - Myjongg.net
Myjongg offers a decent alternative to the previous choices.
The user interface is a little cruder, but it is very functional and easy to use
Option to play against people, bots or a combination. For instance, you can create a private table to play with as many friends as you wish and the tool will provide the required number of bots to fill the table
Can play using NMJL card and also have the option to "bring your own card"
Bots are basic and would not provide a challenge to most players
No way to see or speak to your tablemates (only text chat)
No way to call other players dead
Currently 8 free games per day are being offered (was 4 before the pandemic). If you would like to play more games, it's $5/month or $40/year. The premium version gives you access to unlimited play and also the "tile tutor", the "training room" and statistics
5 - National Mah Jongg League
This is the official online game of the National Mah Jongg League. As such it claims to be the only site that supports official NMJL rules and card. However, we found the above websites all follow the same rules and allow you to play with the latest card.
Supports only American Mah Jongg
User interface is more primitive
Game appears to not have been improved since its initial release
Support is lacking
No way to see or speak to your tablemates (only text chat)
Has a reputation for being a little unfriendly, especially for new-comers
National Mah Jongg League, Inc. Membership ID is required to subscribe and play
Seems to only be supported in Firefox (web browser)
$50 per year. No free games. No free trial
* All prices as of December 2020.