To help you brush up your Mah Jongg skills, we provide the following resources:
Mahjong Teachers Directory
Search for mahj teachers in your area. To request changes or additions to the list, please contact us.
Best Mahjong Books
Several different games can be played with the standard Mah Jongg set and the game has evolved over the years and taken on differing national characteristics. So there are many ways to play! Below are our favorite mahjong books, along with our reviews. These books will help you to familiarize yourself with the main styles of Mah Jongg and improve your skills.
---
---
---
---
---
---
---
---
---
---
---
---
---
---
Note: I Love Majh is a participant in the Amazon Services LLC Associates Program. Amazon offers (at no additional cost to you) a small commission on products sold through their affiliate links. These commissions help support the site. Please contact us if you have any questions.
Here are a couple of DVDs which will teach you how to play mahjong.
Learn how to take your mahj game to the next level!
---
This DVD featuring Susie is simple to understand. You watch it once, maybe a second time and you are ready to sit down at the table and play. It covers everything from how to set up your pieces to how to play the game of Mahjong. And so much more! You'll never wonder if you are doing it wrong.
You'll never be embarrassed by saying the wrong thing or making the wrong move. You'll understand strategy, which hand to play, and the American Mahjong Rules. So if you've been on the outside and want to learn how to play Mahjong but didn't have a patient teacher, let Susie be your guide. You'll fall in love with her patient and clear teaching style an learn how to play American Mahjong with confidence.
Learn More
---
This brand new DVD makes a complex game simple. This tutorial takes the viewer from opening up his Mahjongg set to finishing the game. Both traditional Chinese Mahjongg and American Mahjongg are explained in detail. Excellent graphics and music add to the enjoyment of learning this wonderful game. Showing this educational DVD to your friends will help them grasp what they need to know to sit at the table and start racking tiles.
"This DVD is well done and to the point. The graphics make the game easy to understand as the producers use the show me way of learning this wonderful game. This DVD should help the game grow because it makes the complicated seem simple. This is the only DVD we've seen of this kind. Nice job." - MahjongOnline.com
Learn More
---
Best Online Mah Jongg Games
"Practice makes perfect", some say. "PERFECT practice makes perfect", others correct. This is true in all activities and mahjong is no exception
As we discussed in our Complete Guide to American Mahjong Strategy, the key to getting better at the game is:
Study the rules and (for American mahjong) the current card
Practice with others who are also willing to learn or with online bots (at a slow pace)
Once you're confident with 1 and 2 above, start taking part in real (i.e. faster) games
One of the best ways to practice is using an online Mahjong game. Most will allow you to play against bots and/or people, and play at the desired speed and with people of your skill level.
Here are our favorite online games:
1 - I Love Mahj
Though, of course, we may be just a little biased here! ;)
Three levels of intelligent bots
Talk to other players within the game (no phone or Zoom required)
Play with bots, invite friends to play or a combination of each
Get matched with players of similar skill and speed
Ability to call other players (or bots) dead
Detailed game statistics to track your progress:

Wins, losses and wall games
Average game duration
Average thinking time
Points gained/lost
Rating history
Summary of hands completed

Feels like a live, in-person game
User interface is clean and modern
Specializes in American Mah Jongg
This is, in our opinion, the best online mah jongg game for beginner to advanced players.
Definitely our top pick for maximum fun!
$6 per month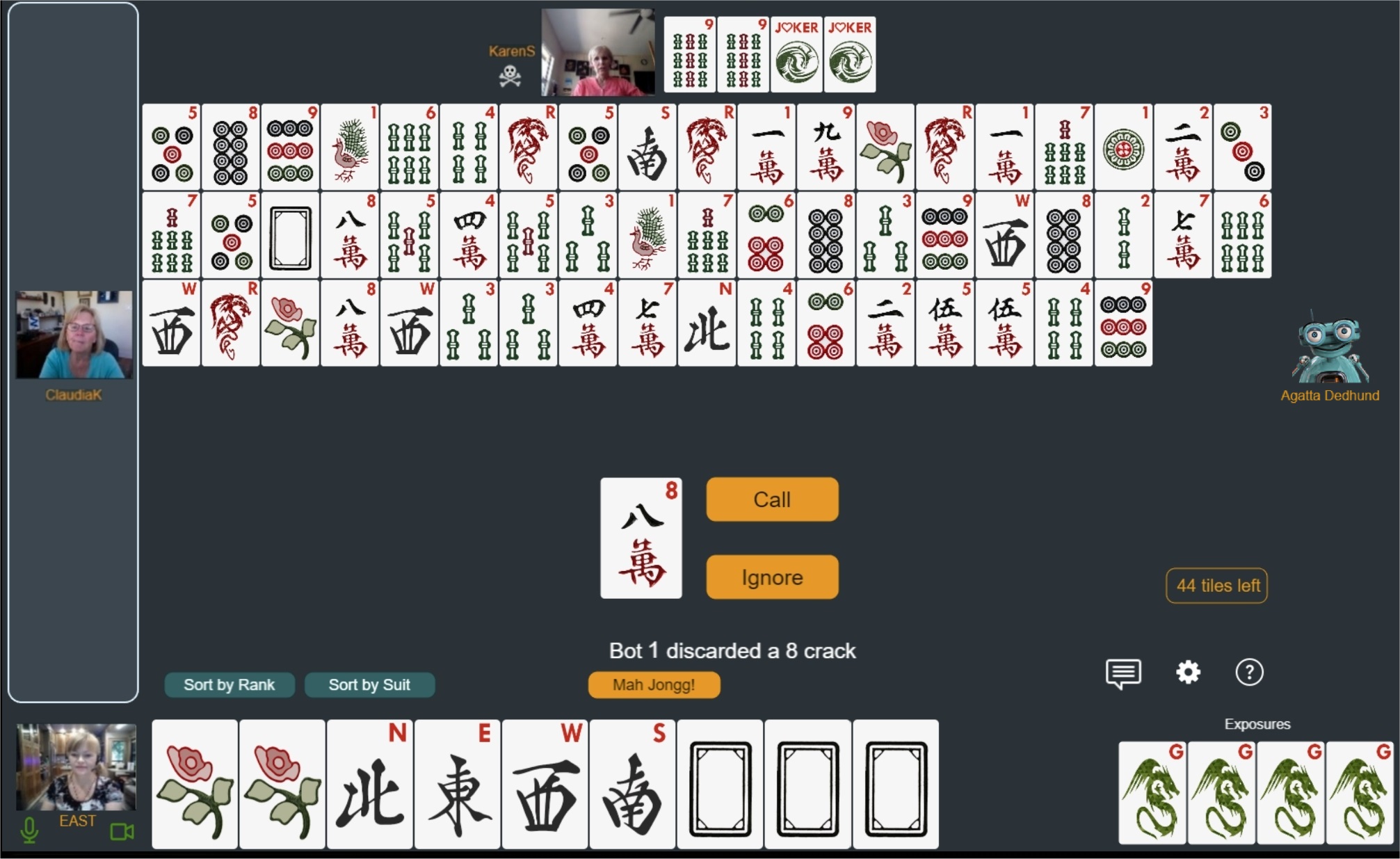 A sophisticated and realistic user interface that simulates a real, live game.
This platform offers the most choice in game types and is very configurable

Choice of style (including American, Riichi, Chinese Official and Hong Kong styles among others) and type of play (including their trademarked "QuickMahjong")
Configure your avatar and its hand
Choose how you'd like the game to look and feel on your device
Many options, such as "auto-pass" (which automatically skips tiles you can't pick) and auto-sort (which sorts your tiles for you)
Finally, there are a number of options for sounds and animations

Mahjong School is free and allows you to play practice games or focus on specific hands with bots and/or friends
Large community of enthusiasts of all skill levels
Chat feature allows typed discussion between players
Online tournaments
App runs in any browser currently but you will need to enable Flash. Unfortunately, Flash will no longer be supported in any browser at the end of 2020. The game can also be downloaded and installed as a desktop app
The user interface is a little overwhelming at first, but once you're past the initial learning curve, it is a powerful tool.
1000 free "dragon chips" to use per day or upgrade to the premium subscription ($5/month or $50/year) or become a VIP member ($8/month, $80/year)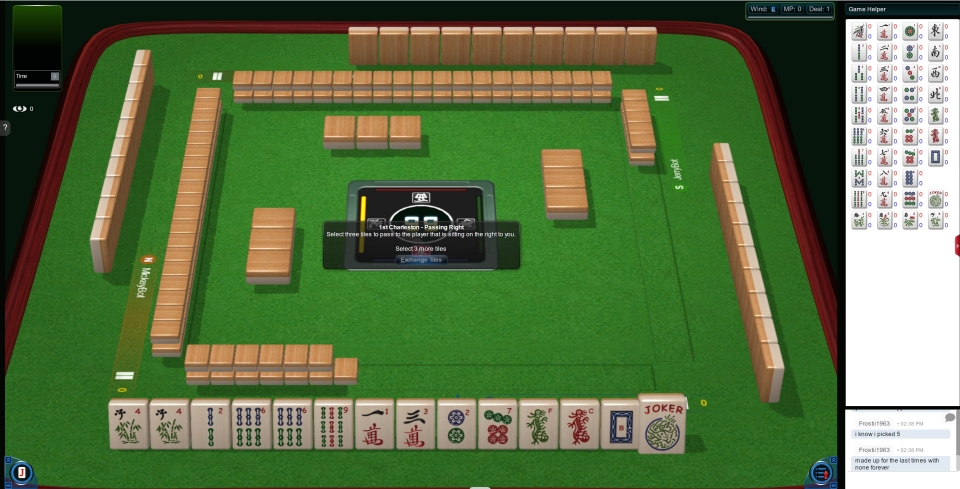 3 - Real Mah Jongg
Real Mah Jongg is a solid game playing platform.
User interface is clean but not as sophisticated as Mahjong Time
Play feels a bit more manual (like a real game)
Good prompts
Limited configuration options
Specializes in American Mah Jongg (you can choose the year card you wish to play)
You can play against friends, strangers, bots, or a combination
2 week free trial (which includes unlimited games and features). After that, it's $6/month or $60/year.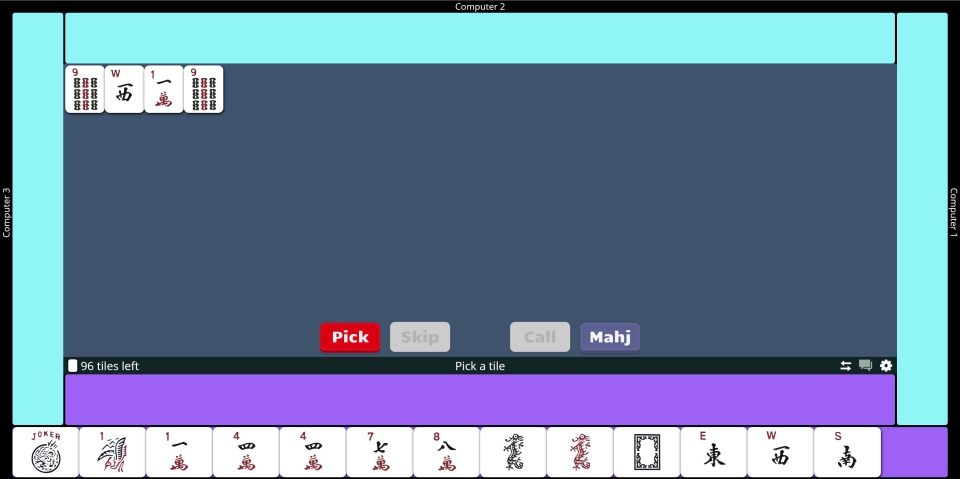 4 - Myjongg.net
Myjongg offers a decent alternative to the previous choices.
The user interface is a little cruder, but it is very functional and easy to use
Option to play against people, bots or a combination. For instance, you can create a private table to play with as many friends as you wish and the tool will provide the required number of bots to fill the table
Can play using NMJL card and also have the option to "bring your own card"
Currently 8 free games per day are being offered (was 4 prior to the pandemic). If you would like to play more games, it's $5/month or $40/year. The premium version gives you access to unlimited play and also the "tile tutor" (which advises you on the best hand to play), the "training room" (where you can learn to better recognize hands) and statistics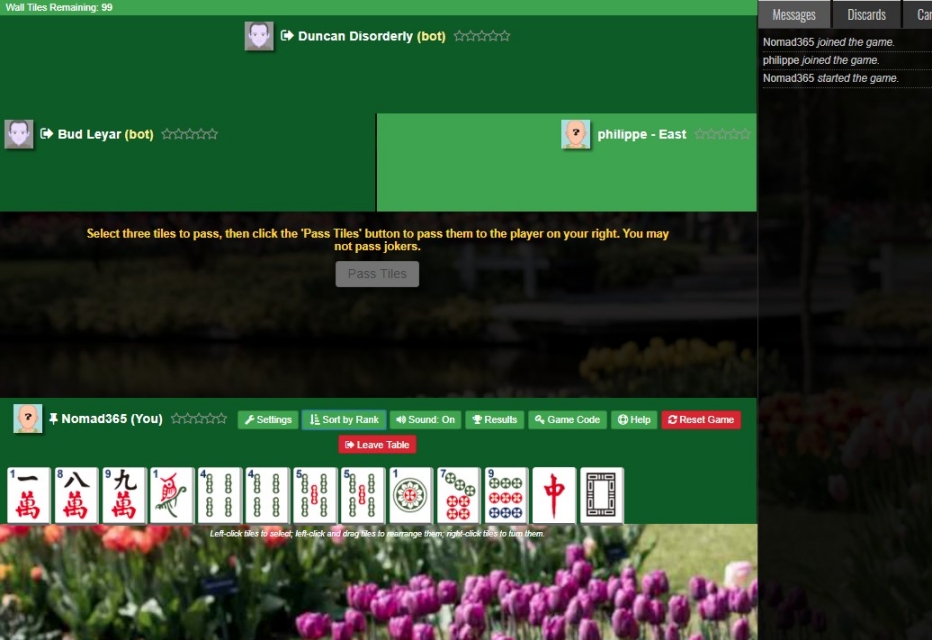 5 - National Mah Jongg League
This is the official online mah jongg tool of the National Mah Jongg League. As such it claims to be the only site that supports official NMJL rules and card. However, we found the above websites all follow the same rules and allow you to play with the latest card.
Supports only American Mah Jongg
User interface is more primitive
Game appears to not have been improved since its initial release
Support is lacking
National Mah Jongg League, Inc. Membership ID is required to subscribe and play
Seems to only be supported in Firefox (web browser)
$50 per year. No free games. No free trial
All prices are as at September 2020.